Akasha Project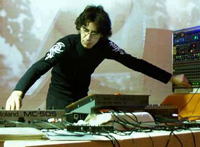 Akasha Project is a musical venture of the sound artist Barnim Schultze. The first tracks appeared in 1996 and '97 on various compilations. In 1998 his first album as an artist: "MDMA Tuning" appeared, developed in collaboration with the music researcher Hans Cousto. Since this time Akasha Project has dealt exclusively with tones drawn from nature and their effects, working closely with Cousto - the discoverer of the planetary, molecular and atomic sound frequencies.
In 1999 the double album "Scent of Life" appeared, with - amongst others - compositions based on the frequencies of the THC molecule. After a wide variety of pieces, which appeared on diverse compilations, the album "Always" followed in 2001.
Also in 2001 the album "The Sound of THC" appeared; this was by Brain Entertainment Laboratory (B.E.L.), consisting of the four 'brain lab workers': Tommelon, Ricky Deadking, B. Ashra and Akasha Project, and is exclusively devoted to the sounds of the Delta 9 molecule.

In 2002 Akasha Project released the CD "Cosmic Ambient Garden" on Insolation Chilling and in 2008 on Planetware Records as Re-Release. On various compilations and vinyls a number of additional tracks and remixes came out.

In 2006 on Planetware Records a setting of the three elements of earth's orbit appeared on the double album "Earth Trilogy" . In 2007 the ambient album "Cosmic Colors" was released and in 2009 "The Quantum Music of the LSD Molecule".

Throughout this time Barnim Schultze was building up his reputation as an electronic musician of the first order, at numerous live events. 'Taking the groovebox round the universe' : Akasha Project's sound baths in the waves of harmonic tones prove their worth as much in a therapeutic context as they do for tuning in on the main floors of parties or as a chill out installation.
Artis homepage: www.akashaproject.de