Alien Voices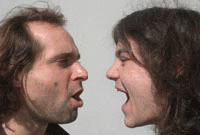 Kolja Simon, the overtone and throat singer with heart and soul, is a self-trained artist who acquired his skills singing with construction machinery.
Felix Mönnich discovered his love for music on the synthesiser. Later he learnt to produce similar sounds with the human voice.
Every voice is made up of diverse tone colours, each of which can be made audible separately with special vocal techniques. The tradition of throat singing has been practiced since ancient times, especially in Mongolia and neighbouring Tuva. The influences of many styles of singing that have developed around the world are manifest in the voices Felix and Kolja. As a duo, they are known by the name AlienVoices.
Artist-Homepage: www.alienvoices.de