Steve Schroyder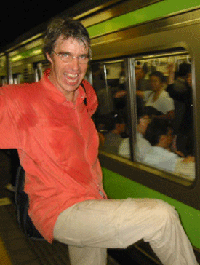 The musician and organ builder Steve Schroyder experienced the rise of a new electronic music in Berlin at the beginning of the 1970s. Even then he was experimenting with ways of rendering cosmic dimensions accessible to experience through sounds. Together with Tangerine Dream, he expressed this experience on the album entitled »Alpha Centauri«. It was during this production that he first encountered the new instrument known as the synthesizer, which, even now, is continuing to gain significance in generating sound and which played a major role in producing Tangerine Dream's next album, »Zeit«. Steve then joined a group called Ashra Templ« and recorded with them the »Seven Up« album, on which Timothy Leary collaborated.
In1980, Steve Schroyder and the musician Gene Gross together formed the group Augenstern. Their first studio recording was the MC "Strahlcn", which met with acclaim in far-reaching New Age circles. Study of harmonic structures in nature gave rise to the idea of a »plant music«, which was first performed on the occasion of the Freiburg State Garden Show and can be heard on his next MC, "Blütenklang". The listener can experience from within the resonance of the forms and beauties of flowers. In 1991 the CD "Best of Augenstern" was released.
Steve Schroyder and Hans Cousto met in the fall of 1987. Together they worked out the CDs "Klänge Bilder Welten" and "Sun - Spirit of Cheops", first released by Simon-Leutner, Berlin and then 2006 by Planetware Records. Cousto acquainted Steve with the astronomic-harmonic groundwork of horoscope composition. Owing to their original manner of transposing horoscopes into music,. Steve Schroyder and Hans Cousto became popular studio guests on all sorts of radio and television programs here and abroad. In numerous live broadcasts, the horoscopes of studio guests were calculated, transposed into a musical composition and then performed live. One's own horoscope as a sound experience!
In 1989 Steve Schroyder and the gong player and percussionist Jens Zygar formed the "Star Sounds Orchestra". »Planets« (Fønix Records) was their first CD and presented the tunes of the planets of the solar system. The next CDs was entitled »Kosmophonon« and »Phantastische Phönomene« (CMS Records) and »Planetary Ambience - Live in London« (Aeos). "Psy Force", their first psychedelic trance album, was released in 1998 by famous german label Spirit Zone Records, followed by "Ooz" (1999), Both albums are now on Planetware Records. Next release was the double album »Music For Qigong Dancing« at Millennium Records, UK. It shows two sides of SSO - deep ambient and dance. Live concerts in many countries all over the world made Steve popular as a living legend of electronic music.
In 2006 Steve Schroyder and Fritz Dobretzberger founded their own music label called Planetware Records. First release was the Maxi-CD "Let´s Mozart" by Star Sounds Orchestra featuring Blue Violin to celebrate the 250th birthday of Wolfgang Amadeus Mozart.
2007, the CD "Klänge des Lebens" was released on Planetware Records.
2009 Steve plays some concerts together with Anne Clark and later on joines her band.
On October 17th, 2010 Steve Schroyder, B. Ashra and Barnim Schultze (aka Akasha Project) met for a legendary concert at the Electronic Music Festival "Ricochet Gathering", wich was released in 2011 on the CD "Gaitron" (Klangwirkstoff Records).
In 2009 Steve Schroyder met the overton- and throat-singer Kolja Simon and Felix Mönnich, well known as AlienVoices. Their first album "Qigong Dancing" has been released in July 2012.
In 2014 the Album "Venus Transit" from Star Sounds Orchestra was released.
2014 means the end for the cooperation in Star Sounds Orchestra.
In 2014 Steve meets Zeus B. Held for a couple of sessions in a studio. They name their project Dream Control. In July 2017 the debut album "Zeitgeber" was released
Artist-Homepage: www.schroyder.de