Psy Force
Star sounds orchestra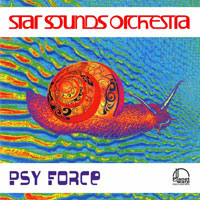 Indian deities, mayan shamen and aliens are drawn together on an african trancefloor. "Psy Force" was the first Psytrance release of Star Sounds Orchestraand was released on Spirit Zone Records in 1997. This album opened the door to the major psychedelic trance festivals for SSO. Soon there was scarcely a flyer which did not feature SSO in big letters among the lineup; 100,000s of trancers celebrated at the live appearances of SSO around the globe.

Often imitated but never equalled: Steve Schroyder, the electronic mastermind devoted to the synthesizer since his work with Tangerine Dream a good 35 years ago, and the percussionist Jens Zygar, whose set of up to 20 planetarily tuned gongs can even make large stages appear small, have set a milestone of the genre with "Psy Force".

No question, Planetware Records feel gladly compelled to bring "Psy Force" (and its successor "Ooz") back into the spotlight for the 10th anniversary of the album.

track
1: Return to the Force
2: Aruna
3: Youth Machine
4: A.I.S.
5: Space Clan
6: Komaga
7: I.C.P.
8: Transmission 99
9. Ajundria

tuning
Earth Day
Sun + Veus

Saturn

Mars beat, Venus tune
Venus

Mercury

bpm
91
119
138
139
134
136
144
132
66

minutes
5:40
6:59
7:39
6:26
6:55
6:29
10:09
10:08
9:10