Let´s Mozart
Star Sounds Orchestra feat. Blue Violin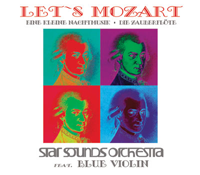 On January 27, 1756 the grand master of occidental ballroom dancing Wolfgang Amadeus Mozart was born. To celebrate his 250th birthday worthily on today's dance floors the musicians of the Star Sounds Orchestra and Blue Violin dressed some of his compositions from "Zauberflöte" and "Kleine Nachtmusik" up with the sounds of the 21. century.
From young to old, from friends of classical music to techno freaks, rarely have such mixed dance floors been animated to swing so extensively driven by Mozart's compositions in a mix of Disco and Trance.
The CD Maxi Single Let´s Mozart will be released on January 27, 2006 - is there a better date for it - on Mozart's 250th birthday.
tracks
1. Allegro Unlimited 
2. Tamino Bounce 
3. Easy Osiris 
4. Königin der Nacht

bpm
142
140
144
128

min.
4:15
4:24
6:11
5:12
Total: 20:06 Min; All tracks in Venus tuning: 442.5 Hz
Vocals on track 3: Irina Mikhailova
"Allegro Umlimited" Live